The 25th Annual New Product & Technology Awards (NPTA) competition, the largest awards program of its kind, will be taking place in Libertyville, IL Civic Center on July 6-8. Laura Mitchell will return for the second year to judge this innovative and inspirational event. Laura and another member of the LMC team will be judging on Friday July 8th from 1 – 5pm in the beautiful Civic Center in Illinois.

The National Mature Media Awards is the nation's largest awards program that annually recognizes the best marketing, communications, educational materials and programs for adults age 50 and older. Laura will be helping to assess Aging Service Providers such as AARP & Senior Housing Communities & Marketing Companies on Entry Categories such as:
Marketing & Communications, Publications/Editorial, Education/Training Programs, Mature Work & Retirement, Art/Design, and Web-based & Mobile Resources, Health Promotion & Wellness, Caregiving, Home and Community Based Programs.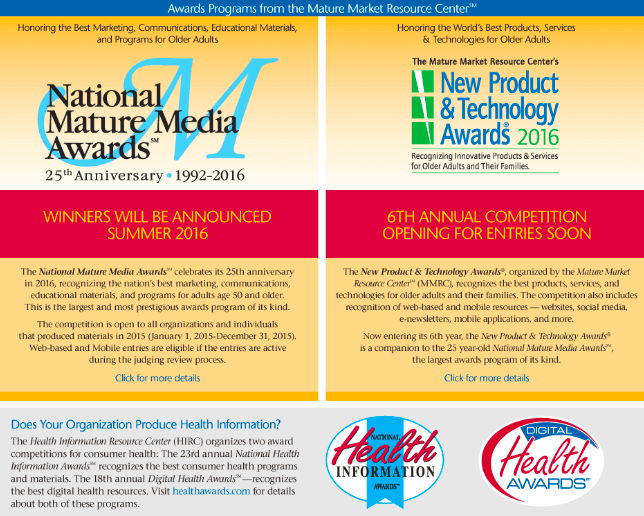 Entries will be judged by Division and Category. Using a rating scale of 1 to 100, a panel of mature market experts will judge the entries based on format, content, creativity, relevance and overall quality. Judges' scores will be totalled and averaged. Gold, Silver, Bronze, and Merit certificates may be awarded by Division and Category based on these averaged scores. All judges' decisions are final. Entries cannot be returned. Winning entries may be used for promotional purposes. Award packets will be sent in June.
What is the Mature Market Resources Center?
According to www.seniorawards.com, "The Mature Market Resource Center (MMRC), organizer of both the National Mature Media Awards and the New Product & Technology Awards, is a national clearinghouse for the older adult market. Other well-known MMRC programs include: National Senior Health & Fitness Day® and the Mature Fitness Awards USA."
For more information about Laura or Laura Mitchell Consulting, please visit www.lmcllc.us or email us at info@lmcllc.us.